Ph.D. Student, Microbial Ecology, Netherlands Institute of Ecology (NIOO-KNAW). MSc, Biology, Evolution and Biodiversity, Wageningen University. BSc, Ecology and Evolution, University College Roosevelt.
We are excited to welcome Dieke Boezen to the lab this January for a short research exchange. Plant Biology undergraduate Maggie Jones had the pleasure of interviewing her. The interview was lightly edited for brevity.
Can you give us an overview of your work at the Netherlands Institute of Ecology (NIOO-KNAW)?
Dieke: Initially, I got interested particularly in multipartite viruses, which are plant viruses that divide their genomic segments into separate particles. Scientists have studied these viruses particularly in a greenhouse or a lab system, but we do not know much about the ecology of multipartite plant viruses at all. This made us want to study multipartite plant viruses, and plant viruses more generally, in natural ecosystems in the Netherlands. We have set up a multi-year survey using five field sites to start characterizing the Dutch plant virome. Right now, we are in the process of sequencing the first year of field samples, which will give us data from around six hundred plants.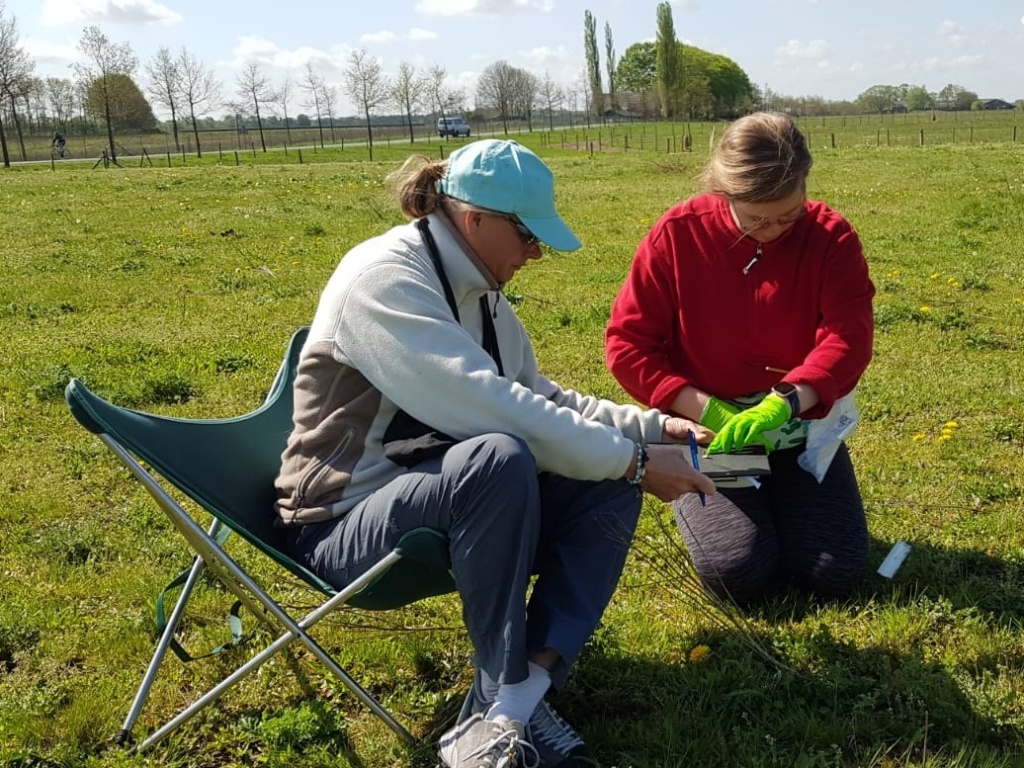 What was the most interesting discovery you made during your master's work at Wageningen University?
Dieke: During my master's, I went to work in a Canadian lab with Prof. Jenny Cory, where they had been collecting and storing caterpillars that had died from viral infections since the 1980s. We could sequence some of the virus isolates and see how the virus population evolved over time. At the same time, together with Dr. Mark Zwart, we conducted one of the first experimental mutation rate estimates for a large double-stranded DNA insect virus. Some scientists thought that these viruses would have a higher mutation rate than known DNA viruses, but we found that this virus has a very similar mutation rate to the typical DNA virus, which was surprising.
As a European who has worked in North America, do you have any takeaways or advice for someone looking to gain international research experience?
Dieke: Find a topic that interests you and a group that will support you. The most important part is that the people you are working with will take care of you and show you around, so you don't feel alone in such a new place. Another factor in having a good experience is finding a country that you match well with culturally. When there is a good fit between you and the culture that you are visiting, you will gain a lot from the experience. I really enjoy working in an international environment because it allows you to reconsider some of the things you took for granted in your own country — both positive and negative. I also learned a lot from people with different international experiences and different ways of doing science, which is really inspiring.
What are some of the differences in how research is conducted in Europe and in North America?
Dieke: Generally, the European labs I have seen are a little bit more communal, with multiple lab groups sharing equipment and facilities, meaning you have more department-level collaboration. In North America, there is more of a group-focused atmosphere. There is much closer team collaboration between the members of the lab group. The main difference, from my perspective, is the scale of the resources and collaboration.
Do you have any memorable moments that impacted your research interests that you would like to share?
Dieke: I was always interested in evolution, but it seemed abstract to me how you could study something like that. Then I did a course called 'Genetic Analysis, Tools and Concepts' where they had these really interesting microbial examples of genetic and evolutionary processes that we could see. For example, we introduced mutations in bacteria using UV lights and got to see the random mutants we created. That made me realize I would like to keep working on this kind of microbial evolutionary ecology.
What prompted your visit to the Malmstrom Lab?
Dieke: Carolyn met my current supervisor, Mark Zwart, at a conference the first week that I started my Ph.D., and we realized that we needed to get her on board as the ecology expert of my Ph.D. committee. A few weeks later we met, and she became my co-promotor officially. Carolyn has been instrumental in setting up my main field experiment because we had little experience with virus ecology fieldwork within the institute. I have been meaning to visit here to meet everyone in the lab group and get experience with some of the techniques in this lab, which is why I am visiting here now.
For more information on Dieke, please visit her NIOO-KNAW profile (https://nioo.knaw.nl/nl/employees/dieke-boezen).
Article by Maggie Jones, edited by Dieke Boezen and Maggie Jones.